Travel Insurance for individuals with Crohn's disease or ulcerative colitis
Last Updated: 30/08/2021
Obtaining medical treatment abroad depends on each countries infrastructure and whether there is  an established reciprocal agreement with your country of residence. A tourist office or embassy may be able to provide you with advice. The information on this page should give you a better understanding of issues relating to obtaining heath care abroad.
Learn more about travelling with Crohn's Disease.
Insurance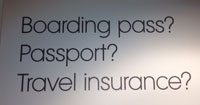 You must ensure you have a valid travel insurance policy when travelling to protect you in the event of a flare of your disease. When obtaining insurance, it is important that you inform them that you have IBD,otherwise you will not be covered in the event of an emergency. Some insurers will charge a premium because you have IBD so it is worth shopping around for a good quote.
Learn more about IBD and travel
Free insurance provided by a tour operator, credit card or bank may not cover pre-existing medical conditions such as inflammatory bowel disease so it is a good idea to call the insurer to check as you may only need to pay a small premium to get the correct cover.
It may be more difficult to obtain insurance if you:
Have recently had, or are awaiting surgery (Learn more about travel after surgery.)
Have been admitted into hospital within the last year,
Are waiting for the results of tests because of on-going symptoms,
Have other medical problems in addition to IBD. 
Many insurance companies will expect you to confirm with your doctor and sometimes provide written confirmation that you are fit to travel.
Where can i find Insurance to cover my IBD?
A list of insurance companies in the UK that provide cover for pre-existing medical conditions can be found on the crohn's and colitis UK website 'insurance and IBD factsheet: 
Insurance checklist
Ensure your travel insurance covers your IBD! 
Shop around for the best quote. Having IBD should not equal higher premiums, especially if you are in remission. 
Read your policy! Know what your insurer will pay for and more importantly, what they will not pay for!
Know your medication - knowledge of generic names and local brands can make all the difference
Keep names and contact details of your healthcare professionals and reliable friends
If you need emergency repatriation, contact your countries embassy  officials
Ensure you take your policy documentation with you
Keep all receipts of everything you pay for, and further evidence if possible such as labels and price tags
Learn more about IBD, vaccinations and travel
Insurance for if you have a stoma
Having a stoma will not cause increased insurance premiums but the pre-existing condition that resulted in the stoma might.
When asking for insurance make sure you declare everything. Declare the stoma and the medical condition that resulted in your stoma. And don't forget to declare any other pre-existing medical conditions. If you fail to do this it may invalidate the insurance. The more recent your surgery and the longer your stay in hospital the higher the premium loading is likely to be. In insurance terms one year is a good milestone. If you have been out of hospital and treatment free for a year then this will help to keep the loading of the premium down. If you decide to travel 11 months after your treatment it might be worth delaying this until 12 months have passed as you may well benefit from a better premium.
A list of insurance companies in the UK that provide cover for pre-existing medical conditions can be found on the crohn's and colitis UK website 'insurance and IBD factsheet: 
or if you have a stoma you can also contact the colostomy association http://www.colostomyassociation.org.uk
or the Ieostomy and internal pouch http://www.iasupport.org/
Crohn's and Colitis organisations in other countries should have similar lists if you contact them (see our useful links page).
Obtaining healthcare overseas
For detailed country-by-country information regarding healthcare arrangements, please see the interactive world map which will provide details on how to access medical care in each country.
Many countries have reciprocal healthcare agreements with each other, meaning that free or significantly reduced healthcare can be obtained if your country has an agreement with your travel destination.If there is no reciprocal agreement in place then you will most likely need private medical or travel insurance to cover the cost of treatment.
Further details regarding reciprocal health agreements can be found below.
Visit our homepage for an overview of our travel advice for individuals with IBD.
Travel within Europe
The European health insurance card (EHIC) lets you get state healthcare at a reduced cost or sometimes free in all European Economic Union countries (Europe, Iceland, Norway, Liechtenstein and Switzerland). It will cover you for pre-existing medical conditions and treatment that is needed to allow you to continue your stay until your planned return, For example, If you are symptomatic from your IBD and need to see a Dr whilst abroad.
It is important to have both an EHIC and a valid travel insurance policy as countries within Europe will also require travel insurance to cover any private medical healthcare or costs such as being flown back to the UK.
Some insurers now insist you hold an EHIC when travelling within Europe and many will waive the excess if you have one.
Apply for the free card online here https://www.ehic.org.uk/Internet/startApplication.do   or call 0300 3001350. 
If you find yourself in an emergency during your visit in Europe dial the European emergency number 112, which free of charge and valid all in all EU/ EEA member states.
Travel outside Europe
The UK has reciprocal healthcare agreements with the countries listed below. If you are visiting any of these countries and need urgent or immediate medical treatment, it will be provided at a reduced cost or, in some cases, free. The agreements do not cover the cost of returning you to the UK (repatriation) or routine monitoring of pre-existing conditions. The range of medical services in these countries may be more restricted than under the NHS.
Table showing countries with reciprocal healthcare agreements
If you are travelling to any country that is not listed above then they do not have reciprocal healthcare agreements with the UK. This means that should you need any medical treatment in these countries,  you will probably need to pay all medical costs and then claim them back from your travel insurance company. It is therefore vital that you obtain a high level of comprehensive and appropriate travel insurance before travelling to any country without a healthcare agreement with the UK. Make sure you keep all receipts for any healthcare you pay for overseas to enable you to claim the money back on your travel insurance. 
Learn more abut flying with IBD and the effect of high altitudes.
Source of information: