Travel after surgery
Last Updated: 30/08/2021
Obtaining travel insurance after surgery
This is explained in more detail in the Healthcare abroad section.
As a general rule, the insurance premium will be higher if you have recently had surgery or have been hospitalised for  an IBD flare.  Your age, destination, duration of travel and other medical conditions will also influence the insurance premium. Travel after 12 months from the date of surgery will generally incur a lower premium. It is best to shop around to find a competative insurance quote. more informatin can be found on our insurance page. 
Travelling with a stoma
Plan ahead! Preparing a checklist of products and items you will need to take with you will help make your trip go smoothly. These will need to include your appliances, accessories as well as dry wipes and rubbish bags. Remember that when you travel to a foreign country where the temperatures might be higher and/or the air more humid, you bag might not stick as well to your skin.
Many Stoma appliance companies provide information and resources for planning your holiday. Coloplast provide a useful travel kit and have informative videos to help take the stress out of travel with a stoma.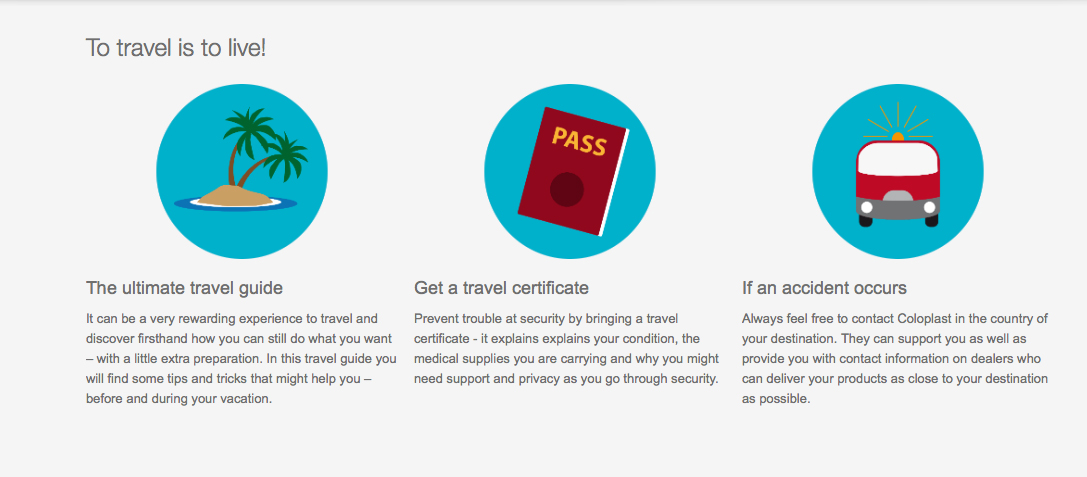 Stoma Wise also provide an 'Emergency change kit' to help you be more prepared for the unexpected http://www.stomawise.co.uk/stomawise-store/emergency-change-kit
Also check out this FREE ostomate travel guide
Traveling with a stoma Blog - For a personal perspective of travelling with a stoma, read this informative Blog
Some advice for travelling with a stoma:
Talk to your Stoma Nurse as you may need additional products. Take more supplies than you would normally need as activities such as swimming and hot temperatures that make you perspire more will mean you have to change your appliance more frequently. Ensure you inform your GP surgery of this so that they are aware that they need to issue you with additional products with your next prescription.
Pre-cut all barriers at home. This way you can leave your stoma care scissors in your checked luggage. Due to increased security, carrying scissors in your checked luggage is more difficult. Alternatively, some stoma companies have a mouldable system which does not need cutting to size.
Pack stoma care supplies in both your carry-on AND checked luggage.
Store your supplies in a cool place – do not leave your ostomy products in hot places (e.g. in the car) for long periods, since the heat may damage the baseplate adhesive.
In case you run out of supplies when abroad, take a note of your product name and code (found on your prescription) as well as the telephone number of your stoma supply company so that if you have a problem you can contact them. Importing products into some countries may incur extra tax costs.
There are various stoma appliances available including flushable inner liners & drainable appliances. Contact your stoma nurse to see if there are appliances that may be more suitable for your trip.
Consider taking drainable appliances with you in case you experience excess diarrhoea and run out of your regular appliances. By using a drainable stoma appliance you won't have to change it as often as with a closed appliance but you will still have to deal with its disposal.
Carry a stoma passport or travel certificate available from most stoma companies or your stoma care nurse, stating your need for stoma care supplies to show security, in case you are asked about your stoma care products. In addition, it is helpful to take a copy of your repeat prescription which shows all your product codes and a description. An example of a stoma passport available from Coloplast can be found here.
If travelling to a foreign country, bring your important stoma care information written in the appropriate language. This can be obtained from the stoma company or your stoma nurse. One of the 70 member associations of the International Ostomy Association can be helpful with translations. They may also help you locate supplies while travelling abroad.
Take a small roll of pedal bin liners to discretely dispose of your appliance when staying away from home.
Clothing - a wide variety of swimwear is available for both men and women with a stoma. Some sources include: Vanilla Blush swimwear and underwear for men and women www.vblush.com.
Travel Plans - When travelling by either train or plane it is sometimes possible to request a seat near to the toilet or next to an isle. This can often help with anxieties and reduce the stress of travelling.
Warm Climate and stoma appliances don't always mix!6
If the climate is warm enough to make you perspire more than usual, you may need to change your pouch more frequently. Make sure your skin is completely dry before you apply a new pouch for good adhesion. It can be a bit tricky if the weather is very hot and humid – if drying your skin is difficult, you can use a hairdryer on low heat to dry the area.
TOP TIP! Cotton pouch covers can be ordered through your stoma nurse or purchased to help stop the pouch material sticking to your skin and causing irritation.
Sun lotion - Apply sunscreen after you put on your pouch, as the lotion could affect the baseplate and make it harder to stick.
Talk to your stoma nurse – and get the products you need.
When spending time in a warmer climate you might need a few more products than usually. For some people a skin barrier that helps the adhesive stick better can be very helpful. Using a belt can also be very good for some people, and if the edges do not stick properly, an elastic barrier can be a possible solution.
Air travel
Your stoma bag will behave the same in a plane as it does on the ground but cabin pressure in aircraft can sometimes cause excess flatus (wind). If your stoma appliance has a filter this will enable air to escape and also hides any embarrassing odours.
Avoid food that may cause bloating and excess wind the day prior to travel.
Before going through security, it is advisable to change your stoma appliance at the last minute to ensure it is empty. Security staff are duty bound to investigate any anomalies but this will always be done in a discreet way. Ensure you carry your stoma passport or travel certificate with you to avoid awkward situations.
Food and Drink
Food such as jelly babies and marshmallows can slow down your stoma output and reduce the frequency of appliance changes.
Avoid drinks that can speed up your output or affect the stoma appliance such as fruit juice and fizzy drinks.
Depending on the area you are visiting, check whether you need bottled water. This can also be used if you irrigate and clean your stoma.
Avoid uncooked foods like salads, raw vegetables, eggs and fish (especially shellfish) as well as undercooked and reheated foods.
Avoid food from street sellers.
Avoid ice cubes, as frozen water is probably made using local supplies.
Avoid water-containing foods, such as ice cream.
Keep hydrated. Should you develop diarrhoea, or an increased stoma output, it is important to remain hydrated, so take care to drink enough fluids.
If you experience diarrhoea that continues past 48 hours you should seek medical advice.
Dehydration
Dehydration is a lack of water in the body. Hot climates and physical activity can make you more prone to dehydration.
If you have had surgery to remove part of your bowel, such as your colon or ileum, you may be more susceptible to dehydration because your body will not be able to absorb fluid and electrolytes (essential salts) from your diet as effectively5.
Signs of dehydration include thirst, dark urine, passing urine infrequently, headaches, and lethargy.
Treatment of dehydration: A packet of salty crisps or drinking flat cola is an easy way to get extra salt but in moderate to severe cases you may need oral rehydration solutions or to seek medical advice.
The ileostomy association recommends the following for rehydration 1:
Dissolve 4 teaspoons of sugar & ¼ teaspoon of salt in 150ml boiling water.
Add another 500ml cold water mixed with a juice or cordial of your choice to taste.
Further information regarding travellers' diarrhoea and avoiding dehydration can be found in on our managing travellers' diarrhoea page and on the Crohn's and Colitis UK dehydration information sheet http://www.crohnsandcolitis.org.uk/Resources/CrohnsA
This is explained in detail on our travel and IBD page.
Source of information: